August 19-27, 2017

"Let me entertain you"
The ultimate tale of an ambitious stage mother fighting for her daughters' success…while secretly yearning for her own. Set all across America in the 1920s, when vaudeville was dying and burlesque was born, the brassy score by Jule Styne and Stephen Sondheim is packed with hits, including Everything's Coming Up Roses, Let Me Entertain You, You Gotta Get a Gimmick and Some People.
Ages 12 and older
With 25-piece orchestra
Gypsy
A Musical Fable
Book by Arthur Laurents
Music by Jule Styne
Lyrics by Stephen Sondheim
Suggested by memoirs of Gypsy Rose Lee
Original production by David Merrick & Leland Hayward
Entire production originally directed and choreographed by Jerome Robbins
Saturday, August 19, 2017 at 8 pm
Sunday, August 20 at 2 pm
Wednesday, August 23 at 2 pm
Thursday, August 24 at 2 pm
Friday, August 25 at 8 pm
Saturday, August 26 at 8 pm
Sunday, August 27 at 2 pm
Tickets start at $34
Age 25 and younger 1/2 price (suitable for 12 and older)
Running time: 2 hours and 50 minutes, including one intermission

MORE ABOUT THE SHOW
Here she is, boys…
By Michael Kotze
Earlier this summer, the author sat down with Gypsy star Mary Robin Roth before rehearsals began. Here are highlights of their discussion…
It's the middle of June, and Mary Robin Roth cannot wait for Gypsy rehearsals to start. "Let's go!" she says, in a voice that means business. "I'm counting the days!"
Staged by her long-time collaborator, MUSIC THEATER WORKS artistic director Rudy Hogenmiller, the 1959 Broadway smash was created by the formidable team of Arthur Laurents (book), Jule Styne (music) and Stephen Sondheim (lyrics). It tells the real-life show business coming-of-age story of two sisters and their indomitable stage mother.
Both sisters became famous; the younger in Hollywood, the elder as a burlesque artist and author. The names June Havoc and Gypsy Rose Lee are still remembered today, at least among flame-keepers of show-biz lore, but their mother Rose died in obscurity.
The greatest role in the greatest musical
Of the three, surely it is Rose who is immortal, thanks to the show many call the greatest Broadway musical of them all. In Gypsy, Laurents, Styne and Sondheim created the Mount Everest of musical theater roles: Rose, the stage mother to end all stage mothers. Broadway legend Ethel Merman created the part, and since then a long line of stars, including Angela Lansbury, Bernadette Peters and Patti LuPone, have made their mark in the role.
So, Mary Robin Roth is eager for her turn. Familiar to MUSIC THEATER WORKS audiences as Vera in Mame, Dolly in Hello, Dolly! and her show-stopping performances in three Nichols Concert Hall Greatest Hits presentations (Cole Porter, Hollywood and Jule Styne), Roth first played Rose more than a decade ago, and is eager to revisit it.
"There's such a fine line between making Rose a caricature or a real person." That line clearly fascinates her. "Is she a martyr or a monster? There are so many contradictions in Rose, and that's what makes her so interesting, and gives you so much to play."
Rose's efforts to forge careers for her daughters ultimately pushes them away, and makes Rose question her motives. "'What did I do it for?' she asks herself. 'Was it for me, or for my kids?' That's what Rudy and I will spend a lot of time talking about—there is just so much to dig into."
She's still here
Has her own career given Roth insight into Rose's struggle? "I relate! Being in this business, you have to be tough, you have to refuse to be discouraged. You're either a survivor or you're not. Rose is a survivor."
But this is more than just a show-biz story. Roth relates Gypsy to her own Minnesota childhood, far from the bright lights of the theater. "I was the only girl with four brothers," she recalls. "Finally the girl came along, and my mom was determined to give me everything she didn't have—whether I wanted it or not!"
"Every mother and daughter have a kind of love-hate relationship. I loved my mother, but you put two women—two strong women—together, and there will be conflict! It's all there in Gypsy. You have to live your own life—Rose can't live her daughter's life for her."
Asked about the challenges of playing such a role, Roth recalls the advice she received from her music director on a production of Stephen Sondheim's Follies. "I was singing 'I'm Still Here,' a BIG song, and my first instinct was to…" She sings the first lines in a belt that would peel paint, and then laughs. "But he said, no—don't start big. You're going to get there eventually."
From opening rehearsal to closing performance
Which is why Roth was so impatient for the Gypsy rehearsals to commence. She was eager to begin the voyage of discovery that starts with the first read-through and doesn't end until the curtain comes down on the final performance. Taking on Rose is quite a journey, one that leads to places both dark and exhilarating; it is the kind of work actors relish most.
Now that opening night draws near, Roth is climbing to the top of this mountain of a role. The opportunity to work on a show as great as Gypsy comes along all too rarely and, with a gleam in her eye, Mary Robin Roth promises, "We're going to find the heart and soul of it!"

Gypsy's original Rose in 1959—Broadway legend Ethel Merman.
Gypsy through the years
Gypsy opened on Broadway on May 21, 1959, and ran for 702 performances, starring Ethel Merman as Rose. The first New York revival in 1974 starred Angela Lansbury. Subsequent revivals were in 1989 (Tyne Daly, followed by Linda Lavin), 2003 (Bernadette Peters) and 2008 (Patti LuPone). A television production in 1993 starred Bette Midler. The 1962 movie version starred Rosalind Russell.
FREE DISCUSSION
Balcony Talk
For 10 years, audience members have enhanced their appreciation of MUSIC THEATER WORKS productions with business manager Mike Kotze's lively behind-the-scenes look at the show they're about to see. He's our resident expert on all things music and theater!
Join Mike for fun facts about Gypsy on any of these dates:
Sunday, August 20 • 12:45 pm
(doors open 12:30)
Saturday, August 26 • 6:45 pm
(doors open 6:30)
Sunday, August 27 • 12:45 pm
(doors open 12:30)
No need to RSVP—just attend (even if you have tickets for a different performance).
PHOTOS
Click any photo to view and download a larger image.
Photo credit: Brett Beiner
Photo credit: Brett Beiner
Photo credit: Brett Seiner
Photo credit: Brett Beiner
Photo credit: Brett Beiner
Photo credit: Brett Beiner
Photo credit: Brett Beiner
Photo credit: Brett Beiner
VIDEO
Click above to watch highlights of Gypsy at Music Theater Works.
PRESS RELEASE
Contact: Christopher Riley
Director of Audience and Press Services
(847) 920-5354 ext. 10 (press only)
criley@musictheaterworks.org
MUSIC THEATER WORKS presents GYPSY August 19-27, 2017
Who
Music Theater Works
(formerly Light Opera Works)
What
GYPSY
Book by Arthur Laurents
Music by Jule Styne
Lyrics by Stephen Sondheim
Suggested by memoirs of Gypsy Rose Lee
Original Production by David Merrick & Leland Hayward
Entire production originally directed and choreographed by Jerome Robbins
Directed by Rudy Hogenmiller
Choreographed by Clayton Cross
Conducted by Roger L. Bingaman
When
Press Opening – Saturday, August 19, 2017, at 8 pm
Sunday, August 20, at 2 pm
Wednesday, August 23, at 2 pm
Thursday, August 24, at 2 pm
Friday, August 25, at 8 pm
Saturday, August 26, at 8 pm
Sunday, August 27, at 2 pm
Where
Cahn Auditorium
600 Emerson Street, Evanston, IL
Tickets
Tickets start at $34. Ages 25 and younger half-price.
(847) 920-5360 • www.MusicTheaterWorks.com
Evanston, IL: Music Theater Works (formerly Light Opera Works) presents GYPSY, the tale of an ambitious stage mother fighting for her daughters' success, at Cahn Auditorium in Evanston, August 19 through 27. A 25-piece orchestra accompanies such well-known songs as "Everything's Coming Up Roses," "Let Me Entertain You" and "Some People."
GYPSY is directed by Music Theater Works artistic director Rudy Hogenmiller, conducted by music director Roger L. Bingaman and choreographed by Clayton Cross.
The cast includes Mary Robin Roth (Rose), Russell Alan Rowe (Herbie), Lexis Danca (Louise), Rosie Jo Neddy (June), and Clayton Cross (Tulsa).
The design/production team is Joe C. Klug (scenic), Jeff Hendry (costumes), Andrew H. Meyers (lighting), Aaron Quick (sound), Shannon Rourke (stage manager) and Katie Beeks (production manager).
The opening night reception for GYPSY is sponsored by The Stained Glass in Evanston.
GYPSY is Music Theater Works' second production of 2017. The season will continue with the concert performance DUKE ELLINGTON'S GREATEST HITS (October 6-15) and PETER PAN (December 23-January 1, 2018).
Discounted season ticket packages are still available.
Tickets for GYPSY begin at $34. Ages 25 and younger are half price. To order tickets, or for more information, call the Music Theater Works box office at (847) 920-5360 or order online 24 hours a day at www.MusicTheaterWorks.com
Director/Music Director/Choreographer Biographies
RUDY HOGENMILLER (Director), artistic director of Music Theater Works, has directed and choreographed many productions for the company including CANDIDE, DIE FLEDERMAUS, LET ME ENTERTAIN YOU: JULE STYNE'S GREATEST HITS, MAME, MY FAIR LADY, GUYS AND DOLLS, SOUTH PACIFIC, THE FANTASTICKS, THE MERRY WIDOW, COLE PORTER'S GREATEST HITS, FIDDLER ON THE ROOF, ANNIE GET YOUR GUN, H.M.S. PINAFORE, OLIVER!, MAN OF LA MANCHA, CAMELOT, BRIGADOON, HELLO, DOLLY!, THE YEOMEN OF THE GUARD, A LITTLE NIGHT MUSIC, THE PIRATES OF PENZANCE, KISS ME, KATE, SOUTH PACIFIC, THE MIKADO and THE SOUND OF MUSIC. Hogenmiller was seen on stage in 2014 as Mr. Applegate in DAMN YANKEES, and as the Emcee in CABARET in 2013. He has been recognized with six Joseph Jefferson Awards and 17 nominations for best direction and choreography in Chicago, and has been a member of the Society of Stage Directors and Choreographers for more than 35 years.
ROGER L. BINGAMAN (Music Director and Conductor) conducts the 25-piece orchestra. Bingaman made his first appearance on the Music Theater Works podium in 1997, conducting THE MERRY WIDOW. Since then he has conducted many productions, including CANDIDE, DIE FLEDERMAUS, MAME, MY FAIR LADY, SOUTH PACIFIC, THE FANTASTICKS, CABARET, FIDDLER ON THE ROOF, ANNIE GET YOUR GUN, H.M.S. PINAFORE, OLIVER!, CAMELOT, THE STUDENT PRINCE, BRIGADOON, HELLO, DOLLY! CAROUSEL, and THE YEOMEN OF THE GUARD, as well as THE PIRATES OF PENZANCE, A LITTLE NIGHT MUSIC, THE MUSIC MAN, IOLANTHE, GIGI, OKLAHOMA!, BITTER SWEET, KISS ME, KATE, 110 IN THE SHADE, NO WAY TO TREAT A LADY and BEAUTIFUL HELEN OF TROY. Bingaman has been director of the apprentice program and chorus master for the Sarasota Opera since 1998.
CLAYTON CROSS (Choreographer and Tulsa) choreographed CANDIDE, MAME, MY FAIR LADY and GUYS AND DOLLS at Music Theater Works, where also played the Mute in THE FANTASTICKS and was a featured dancer in DAMN YANKEES. Cross served for five years as artistic advisor, board member and choreographer for Renegade Dance Architects, and continues to consult and contribute choreography to the Capitol One Bowl's ALL AMERICAN HALFTIME SHOW. He is a master teacher for M.A. Dance, a Texas-based traveling convention circuit, where he has worked and judged for the past 17 years. Throughout his 20-year career as a dancer, Cross has worked with Robert Battle, Fernando Bujones, Frank Chaves, Paul Taylor, and Ann Reinking. He was featured in EVERY DANCER HAS A STORY, a PBS special about the River North Chicago Dance Company, where he was a company member for nine seasons and toured nationally and internationally. Originally from Midland, Texas, Cross received his early training from La Petite Dance Company, Coleman Academy, and the Midland Community Theatre. He holds a BFA in ballet and modern dance from Texas Christian University.
Cast Biographies
MARY ROBIN ROTH (Rose) was seen last season at Music Theater Works as Vera Charles in MAME, and in LET ME ENTERTAIN YOU: JULE STYNE'S GREATEST HITS. Other productions with the company include concert productions of HOLLYWOOD'S GREATEST SONG HITS and COLE PORTER'S GREATEST HITS, Dolly Levi in HELLO, DOLLY! and five different characters in NO WAY TO TREAT A LADY. She was seen at Lyric Opera of Chicago as the Nurse in A STREETCAR NAMED DESIRE starring Renee Fleming. Mary Robin's credits include Sister Lazarus in SISTER ACT (Marriott Theatre), Fraulein Schneider in CABARET, Jeanette in THE FULL MONTY, Helga in DEATHTRAP and Mama Morton in CHICAGO (Mason Street Warehouse; Saugatuck, Michigan), Miss Hannigan in ANNIE (Arkansas Repertory Theatre), and Fanny Brice in FUNNY GIRL (Beef & Boards Dinner Theatre of Indianapolis). Other favorite Chicago roles include Mame in MAME, and Carlotta in FOLLIES (for which she was honored with a Jeff Award and an After Dark Award) and SHEAR MADNESS (also San Francisco and the Kennedy Center). Broadway credits include THE MYSTERY OF EDWIN DROOD and SENATOR JOE. Her touring credits include the national and international companies of EVITA and the Toronto company of SUNSET BOULEVARD (understudy Norma Desmond).
RUSSELL ALAN ROWE (Herbie) returns to Music Theater Works where he appeared in CANDIDE as Martin. Other productions with the company include MAME (M. Lindsay Woolsey), MY FAIR LADY (George, Lord Boxington), SOUTH PACIFIC (Cmdr. Harbison), THE MERRY WIDOW (Kromov), FIDDLER ON THE ROOF (Constable) and ANNIE GET YOUR GUN (Mac/Buffalo Bill understudy.). Favorite Chicago roles include Robert Danvers in THERE'S A GIRL IN MY SOUP at the Metropolis Performing Arts Centre and the Man in Christopher Durang's LAUGHING WILD with Bailiwick Chicago. Other Chicago credits include PARADE (Governor Slaton/Luther Rosser), AMADEUS (Strack), FLOYD COLLINS (Lee Collins) and THE RAINMAKER (Sheriff Thomas), all with Bohemian Theatre Ensemble. Russell was seen in Porchlight Music Theatre's ANYONE CAN WHISTLE in concert, and StageLeft's BLUE/WHITNEY. Russell also works frequently as a professional pianist with The Russell Alan Rowe Trio, and can be seen featured in several local and regional television commercials.
LEXIS DANCA (Louise/Gypsy Rose Lee), making her Music Theater Works, is a recent graduate of Millikin University with a BFA in musical theater and dance minor. She was most recently seen at Music Theatre Wichita in MAMMA MIA!, BEAUTY AND THE BEAST, OKLAHOMA!, NICE WORK IF YOU CAN GET IT, JESUS CHRIST SUPERSTAR, AIDA, DISNEY'S MY SON PINOCCHIO, BIG FISH, BILLY ELLIOT THE MUSICAL, and HELLO, DOLLY! Performances at Millikin include BLOOD WEDDING, THE ADDAMS FAMILY, AND THE WORLD GOES ROUND, PETER PAN, LEGALLY BLONDE, CINDERELLA, MACHINAL, the collegiate premiere of the new Gwon and Hammond musical STRING, and the workshop of Salzman and Cunningham's, THE LEGEND OF NEW YORK. Other credits include AN EVENING WITH ANDREW LIPPA, THE NUTCRACKER BALLET, THODOS DANCE RESIDENCY, and the 84th Annual Macy's Thanksgiving Day Parade (featured float singer/dancer). lexisdanca.com
ROSIE JO NEDDY (June) joins Music Theater Works for the first time, after graduating from Northwestern University in June, where she majored in theatre and minored in creative writing. Northwestern performances include INTO THE WOODS, CABARET, JAMES AND THE GIANT PEACH, SWEET CHARITY, THE MIRACULOUS JOURNEY OF EDWARD TULANE, and the Waa-Mu Show. She also appeared in Lyric Opera of Chicago's CAROUSEL, as Baby Snow and in the ensemble.
# # #
Music Theater Works (formerly Light Opera Works) is a resident professional not-for-profit theater in Evanston, founded in 1980. The company's mission is to produce and present musical theater from a variety of world traditions. All productions are presented in English, with foreign works done in carefully edited modern translations. Maximum scholarship is employed to preserve the original vocal and orchestral material as well as the spirit of the original text whenever possible. Audiences know that at Music Theater Works they will experience repertoire often unavailable on the stages of commercial theaters and opera houses, in modern productions with professional artists and full orchestra.
# # #
Music Theater Works' mission is to produce and present musical theater from a variety of world traditions, to engage the community through educational and outreach programs, and to train artists in musical theater.
# # #
REVIEWS
Chicago Tribune
August 21, 2017
By Kerry Reid
3.5 stars
Rose has us believing too in Music Theater's 'Gypsy'
"Everybody needs something impossible to hope for" sounds like an inspirational sentiment you'd find embroidered on a throw pillow. But cozy domesticity and its accouterments have little to do with the business of show, particularly in the hand-to-mouth, fake-it-'til-you-make-it world inhabited by Rose (aka "Mama Rose") in "Gypsy."
Yet despite all the fearsome stage-mother baggage and brass that travels with the role, we also need to see the vulnerability that rides shotgun with Rose. We need to believe that she believes that the impossible dream of showbiz glory for her daughters will be just around the next corner. Or in the next two-bit vaudeville joint.
Fortunately, Music Theater Works' current production has a Rose whose thorny moxie can't hide the wilting petals of her heart, so set on stardom-by-association. Mary Robin Roth brings blistering pipes and hearty brio to the character, making Rose's long-suffering paramour Herbie's description of her as "a pioneer woman without a frontier" seem particularly apt. But she's also capable of flashes of warmth, even if used mostly to keep the frost of failure from nipping her dreams in the bud.
Based loosely on the memoirs of burlesque star Gypsy Rose Lee, who famously dropped bon mots alongside her gowns, "Gypsy" has become the ur-text for stage-mother dramas. If reality television had been around in Rose's day, she would undoubtedly have beaten Kris Jenner to the cameras. But it's also the story of Louise, the shy thoughtful second-banana sister to child-star June who transforms into the first superstar stripper. The competing dreams — Louise wants a home and stability, while Mama declares "anybody who stays home is dead" — can't possibly be reconciled without considerable damage to both of them.
We see that in director Rudy Hogenmiller's staging, which allows Roth and Lexis Danca's Louise to find the wistful longing for what can never be amid the frantic downward death spiral of vaudeville in the Great Depression. Danca's happy-birthday-to-me ballad, "Little Lamb," hits with quiet anguish. She doesn't even know her real age, given that Mama changes the birth certificates to serve circumstances (older for labor laws, younger for youth discounts).
Of course, Arthur Laurents' book for "Gypsy," much like Gypsy's own memoirs, sanitized the reality of who Rose Hovick really was. Karen Abbott's 2011 biography, "American Rose," revealed a much darker tale of the abusiveness and possible mental illness present in Mama. There's a reason the musical bears the subtitle "An American Fable." Hogenmiller's staging gives us the glitz (and the full orchestra under the baton of Roger L. Bingaman) along with the angst. Jule Styne's music and Stephen Sondheim's lyrics come through with a fine mix of precision and playfulness.
Roth is the heart of the show, but the paradox here is that the woman who is always elbowing her way into the spotlight is played by someone who knows how to generously share the scenes with Rose's entourage. That means that we get a clear sense of the values of the relationships over which Rose runs roughshod.
It's a tricky thing to pull off, but Roth does it well. Her scenes with Russell Alan Rowe's Herbie, especially in their first duet, "Small World," gives us a glimpse of what could have been — if only Rose weren't Rose. By contrast, the dance number "All I Need is the Girl," in which Louise and June's fellow hoofer Tulsa (Clayton Cross) imagines breaking out on his own with the right partner (he's thinking June, Louise is thinking it's her), shows us that Louise wouldn't mind pursuing stardom if she had someone other than Rose pushing her. (Cross also choreographs the cunning homages to Jerome Robbins' original dances.)
Danca and Rosie Jo Neddy as June also dream of a world where, "If Momma Was Married," she'd stop living vicariously through them. The awkwardness between Rowe's Herbie and Danca's Louise makes sense here, despite the obvious affection they have for each other. Both know that Louise isn't really cut out to fill June's twinkling toe shoes when the latter runs away, and they understand that Rose will keep getting her way until someone stronger says no.
That someone ends up being Louise, who only finds the strength to shut her mother out (at least partially) after she transforms herself into a "pretty girl" who leaves them wanting more when she steps out on the burlesque stage. The enticing and comic trio of Alexis Armstrong's Tessie Tura, Emily Barnash's Mazeppa, and Anna Dvorchak's Electra in "You Gotta Get a Gimmick" help Louise figure out how to become "Gypsy." (Jeff Hendry's costumes for them, as well as the gowns for newly-minted Gypsy, show wit and panache.)
Roth at times seems to be channeling the vocal style of Ethel Merman, the original Rose. But she makes the character her own through a blend of bruising bravado and an aching palpable need to make the impossible happen. No gimmick there.
~ ~ ~ ~ ~ ~ ~ ~ ~ ~ ~ ~ ~ ~ ~ ~ ~ ~ ~ ~ ~ ~ 
Chicago Sun-Times
August 20, 2017
By Hedy Weiss
RECOMMENDED
In grand scale 'Gypsy,' the fury of a woman with dreams denied
Everyone from Ethel Merman, Angela Lansbury and Tyne Daly to Bernadette Peters and Patti LuPone has had a chance to put her stamp on Mama Rose, the volcanic figure at the center of "Gypsy," the emotionally scorching 1959 Broadway musical about the woman who uses her daughters (and everyone else who passes through her life) to realize her own unfulfilled dreams. And while the show unquestionably needs a stellar performer at its center, here is the irony of it all: This is the story of a woman propelled by the bitterness of never having achieved stardom.
Despite an extensive career on local stages, in Broadway productions and beyond, veteran Chicago actress Mary Robin Roth might not be a household name. But watch her grab hold of the role of Mama Rose in the Music Theater Works production of the show now at Evanston's Cahn Auditorium, and you will not only see a musical theater master at work, but you will understand that marquee "celebrity" is beside the point here. Roth's Mama Rose is a tireless force of nature who can belt out the show's brilliant score with the best of them. And it doesn't get much better than the work of composer Jule Styne and lyricist Stephen Sondheim.
Roth also is surrounded by a big production skillfully directed by Rudy Hogenmiller, choreographed by Clayton Cross and featuring musical direction by Roger L. Bingaman (who leads the show's brass-driven orchestra) — one that reinforces the ruthless, bitter and profoundly heartbreaking aspects of this story penned by Arthur Laurents and inspired by the memoirs of Gypsy Rose Lee, the fabled burlesque star with class. The portrait of a woman compulsively at war with herself and her thwarted dreams, "Gypsy" limns the resulting warped relationship between a mother and her two daughters, and her inability to love the man who stands by her through thick and thin. It also views all this through the lens of American show business in the 1920s and '30s, as vaudeville thrived and then died, and as burlesque temporarily filled the void.
Rose might be blind to many things, but her bulldozer-like will and relentless energy and determination cannot be denied. She is a survivor, but one profoundly damaged by the very traits that keep her plowing forward as the stage mother from hell who will stop at nothing to satisfy her own emptiness. Roth belts out the show's mighty anthems ("Some People," "Everything's Coming Up Roses" and the final meltdown number, "Rose's Turn"), with Merman-like pipes, and brings just the right humanizing charm to her duets (the wonderfully colloquial "Small World" and "You'll Never Get Away from Me") she shares with Herbie (a fine turn by Russell Alan Rowe), the agent and concessions salesman who wants to become her (fourth) husband.
Although it is the blonde June (Rosie Jo Neddy) who, from childhood, Rose has set her sights on as "a star in the making," she is the daughter who finally throws off her infantilizing costumes and leaves her mother behind. And it is for Louise (Lexis Danca), the forever overlooked girl with a warm heart and a craving for a normal family life, to unexpectedly find fame and fortune in burlesque. Danca, a leggy beauty of easy elegance, captures the smart yet guileless aspects of her character, and also declares her independence with just the right razor-sharp intensity after easing into her new-found role. (Danca's "Let Me Entertain You" allure is enhanced by a series of beautiful gowns designed by Jeff Hendry.)
Choreographer Cross doubles as Tulsa, the vaudeville dancer whose rendering of "All I Need Is the Girl" — a dreamy Astaire-like duet performed with a broom (rather than with Louise, who looks on longingly) — is winningly performed. And there is raucous fun courtesy of the three strippers Louise encounters at a burlesque house in Kansas: the balletic Tessie Tura (Alexis Armstrong), the brash and brassy Mazeppa (Emily Barnash), and the electrically lit Electra (Anna Dvorchak).
"Desperate people do desperate things," Rose says at one point in the show. And it is that crazy desperation, so brilliantly captured by this show's creators, that makes "Gypsy" so unforgettable.
~ ~ ~ ~ ~ ~ ~ ~ ~ ~ ~ ~ ~ ~ ~ ~ ~ ~ ~ ~ ~ ~ 
Chicago Reader
August 22, 2017
By Albert Williams
"Gypsy has long been regarded by many as the greatest book musical of all time," Music Theater Works artistic director Rudy Hogenmiller writes in the program notes for his company's production of the classic show. Count me among those many. With a crackling book by Arthur Laurents and tuneful, witty songs by veteran composer Jule Styne and up-and-coming lyricist Stephen Sondheim—fused into a seamless whole under the genius guidance of original director Jerome Robbins—Gypsy is the fact-based (but highly fictionalized) story of how Seattle single mom Rose Hovick tried to turn her daughters into vaudeville stars, refusing to realize that vaudeville was in its Depression-era death throes. Burlesque, however, was thriving, and Hovick's elder child became Gypsy Rose Lee, the highest-paid stripper in showbiz, whose memoir inspired this 1959 Broadway hit. Hogenmiller's staging emphasizes the show's comical and sentimental aspects, driven by Mary Robin Roth's brassy portrayal of "Madame Rose," the overbearing, frustrated stage mother wondering when it's going to be her turn in the limelight.
~ ~ ~ ~ ~ ~ ~ ~ ~ ~ ~ ~ ~ ~ ~ ~ ~ ~ ~ ~ ~ ~ 
Stage and Cinema
August 20 2017
By Larry Bommer
Tough love gone haywire

Some people—hey, that could be a song title!—say Gypsy is the greatest Broadway musical ever written. And, calibrators of showbiz greatness, these folks may well be right.
It's not just a stirring story of a prodigal daughter making good or a harridan matriarch morphing into a humble fan (confessing that for 20 years she was living vicariously through her daughters and not for them). It's not just because Gypsy is that rare musical where every song either carries its weight, earns its place in the plot, conjures up its context (the era of vaudeville and the world of burlesque), or stands on its own for fertile melody and brilliant lyrics. Or because the story pulls you along, as frantically as Rose does her fractious and all-suffering thespian clan.
No, it's mainly because Gypsy captures why we make musicals and see them—the drive to exchange humdrum life for showbiz moxie, even if it's a trick of the light, smoke and mirrors, a one-trick pony. The love of the art, with all its appalling and appealing truth and tinsel, propels this unstoppable plot to its dynamite ending.
Gypsy is as much a celebration of the addictive insanity of show business as a chronicle of the checkered childhood of super-stripper Gypsy Rose Lee. Sondheim's crackling lyrics gave Jule Styne's tunes whiplash wit and psychological heft. This slice of showbiz conjures up drafty auditions, unheated dressing rooms, crowded boarding houses, stolen cutlery, a traveling menagerie—from Seattle to Wichita and across the yawning Depression. The detritus that Rose leaves behind as she ruins yet another marriage before its wedding defines theater as few shows can. The rest is legend.
However strong the story and diverse its travelogue, it's essentially a vehicle for whoever plays Mama Rose, the mother hen to end all eggs. Ethel Merman grew the role, Bette Midler cured it (as in ham), and so many more—Patti LuPone, Tyne Daley, and locally, Alene Robertson, Louise Pitre, Rebecca Finnegan and Klea Blackhurst—have detonated as the stage mother to—unfortunately—not end stage mothers. As often as they shout "Sing out, Louise!" or threaten with "You'll Never Get Away From Me," they finally had to speak the fateful line, "Why does everybody leave?"
In this powerful revival by Music Theater Works (formerly Light Opera Works), Mary Robin Roth rents, if not owns, the killer role. A born belter with leather lungs, but a "tiger mother" when she bursts into self-pitying tantrums and paranoid blame-throwing, Roth nonetheless sinks her show-stoppers in a character as clear as hunger. "A pioneer woman without a frontier," Rose is every striver who's sick of second billing when she can taste the marquee.
Compared to Rosalind Russell or even Bernadette Peters, Roth gives Rose even more friction burns and less eagerness to please. Take me or leave me, she declares, and they do in just that order. The real dynamo, who allegedly pulled a gun on her eventual son-in-law, didn't give a damn. So in "Rose's Turn," a mad scene that's both predictable and terrifying, Roth breaks down beautifully—all her mother love suddenly congealing into burning rage over what SHE might have been, not Baby June or little Louise. Call it scream therapy, closure, an epiphany or catharsis—it works on more than Mama Rose.
Framed by an old-style proscenium with vaudeville signboard announcing the many locales, Rudy Hogenmiller's sumptuous staging surrounds Mama Rose with tailor-made triumphs, namely Russell Alan Rowe, down-to-earth as Rose's patient suitor Herbie, Rosie Jo Neddy as the temperamental ex-Baby June, and, above all, Lexis Danca, a self-effacing Louise until she blossoms into Gypsy Rose Lee.
The show's most cunning opportunity—and attempt to distance her role from the memory of Natalie Wood in the film version—comes when Danca does her first strip. Forgetting she's supposed to be a lady (what set Gypsy off from the bump and grinders), she's clearly angry at her mother and so much else. But slowly the joy of finally being seen and on her own terms overwhelms everything else and, yes, a star is born. That doesn't quite happen on the Cahn Auditorium stage, however: We don't see Louise consciously choosing to become Gypsy. That's a pity (or, more charitably, an opening night failure of nerve).
That lost chance notwithstanding, Louise remains the ultimate late bloomer and ugly duckling turned striptease swan. It's beautiful to watch the lovely Danca blossom from the self-effacing rear end of a cow into the famously intellectual stripper, as respectable an ecdysiast as ever scorched a stage.
Dedicated to industrial-strength make-believe, the 31-member cast explodes in torrents of talent as they play auditioning kids and their mothers, Boy Scouts, stagehands, newsboys, farmboys, Hollywood blondes, strippers, "stage door" Johnnies and assorted showgirls. Gypsies all.
With seventeen rapid-fire set changes, Joe C Klug's scenery is slickly stylized until it's hard to tell the real-life settings from Rose's crudely improvised backdrops, one more culprit in the question of what killed vaudeville. That might be a problem if what's up front weren't so special, like Jeff Hendry's exuberant and accurate costumes or Roger L. Bingaman conducting the captivating and irresistible 25-piece orchestra, as good as it gets, in the original Broadway orchestrations.
Or, for that matter, choreographer Clayton Cross's charming semi-solo as dance-happy Tulsa crooning how "All I Need Is the Girl" (alas, it's not Louise) or the never-more-hilarious trio "You've Gotta Get a Gimmick." That too-brief song and dance—and yes, even the novelty number with a trumpet, lights and pasties—remind us exactly why we sit in our seats or, more importantly, don't: Everything's coming up Gypsy. Let them entertain you.
~ ~ ~ ~ ~ ~ ~ ~ ~ ~ ~ ~ ~ ~ ~ ~ ~ ~ ~ ~ ~ ~
Chicago Theater Beat
August 21, 2017
By John Olson
3.5 stars
Fierce performances elevate a classic

"Mama Rose" Hovick, the stage mother of the two child performers who grew up to be the actress June Havoc and the stripper-then-actress Gypsy Rose Lee, is arguably the best and most demanding role in musical theatre for an actress. (In fact, yes, I think I'm willing to argue that it is). Accordingly, it's been played on stage by the many of the greatest musical theater actresses since Gypsy premiered on Broadway in 1959 – Ethel Merman, Angela Lansbury, Bernadette Peters, Patti LuPone (and on film By Rosalind Russell and Bette Midler). So, you don't want to see just any actress playing Mama Rose in this fable of vaudeville and burlesque in the 1920s and 1930s. Fortunately, and astonishingly, Mary Robin Roth is not just any actress. She gives a Mama Rose that can stand alongside some of the best we've seen in Chicago over recent years. Roth, the sole Actor's Equity member in the cast, gives a performance that is nuanced and convincing – starting with an almost desperate Rose at the musical's beginning showing what drives Rose to become a relentless stage mother. Roth later softens Rose and shows her optimism as the act starts to get bookings (and Rose picks up a new agent/boyfriend, Herbie, along the way). But, she can quickly, yet believably show Rose's despair when June, the more talented daughter on whom Rose placed her hopes of stardom, leaves the act and elopes. Roth has the vocal chops, as well, to sing out the brassy numbers originally delivered by Merman.
And, she's supported by an equally fine supporting cast. Russell Alan Rowe is an unusually strong Herbie, cleverly navigating the agent's dissonance between his attraction to Rose and his dissatisfaction with show business. It's a tricky role to play – frequently Herbie is interpreted a weak man, but not so here. We see the chemistry between them and a Herbie who is if not Rose's equal in indomitability, is at least a worthy adversary. Rowe is also a fine singer, though the Jule Styne /Stephen Sondheim score doesn't give him a lot to sing. The production's Louise-turned-Gypsy is Lexis Danca – a recent graduate of Milliken University who's new to Chicago and is a real find. She effectively plays Louise as the awkward teen who becomes the elegant stripper Gypsy Rose Lee, accomplishing the difficult task of playing a supposedly untalented character. Danca herself clearly is talented, as she shows in her quite polished rendition of the plaintive ballad "Little Lamb."
Also noteworthy in director Rudy Hogenmiller's cast is Rosie Jo Neddy as June, in a role that usually draws less attention than the aforementioned Rose, Herbie and Louise. Neddy, a June graduate of Northwestern University's theatre program, makes her June more than the sweet but ditzy "Baby June" stage persona. Neddy shows us the ambition and frustration that lead June to run away from Rose and the whole "Baby June" act. This detailed performance that utilizes Neddy's very appealing vocal and dance abilities elevates this role into one nearly equal with the other three.
The show has several secondary characters that have important stuff to do as well – and they're all expertly handled here. Alexis Armstrong, Emily Barnash and Anna Dvorchak strike just the right comic tone as the strippers that perform the comedy number "You Gotta Get a Gimmick." Clayton Cross, who also choreographed the production's snappy dances, makes a charming song and dance man as Tulsa, whose cry "All I Need is the Girl" leads him to elope with June and leave Rose so he and June can pursue their show business dreams without her. Jerry Miller is authentically rustic as Rose's father and as the harried owner of the burlesque house where Louise first strips. Joan McGrath finds a fresh take on the more stereotypical character of the secretary to a vaudeville impresario.
Always a demanding musical to produce, this Gypsy is a huge production by any standards. Hogenmiller and Cross lead an accomplished cast of 31 performers that includes kids and one dog (Audrey Sphatt as Rose's dog Chowsie). The cast is dressed in a huge array of gorgeous costumes by Jeff Hendry that include colorful vaudeville and burlesque outfits as well as street wear of the '20s and '30s, accented by the equally important wig and hair design by Sienna Kusek. The sets by Joe C. Klug are simple, but enough to take us to the many times and places of the script, bathed in nice lighting by Andrew H. Meyers. The sound design by Aaron Quick delivers an exceptional crispness for Sondheim's smart lyrics and perfect balance between singers and the 23-piece orchestra led by Roger L. Bingaman playing the original orchestrations by Sid Ramin and Robert Ginzler.
Music Theater Works (the new name of the former Light Opera Works) follows a producing model unique among non-Equity Chicago theaters that allows them to stage such large productions, with full orchestra accompaniment. By playing in a large theater (the 1,250-seat Cahn), charging a pretty good ticket price (top price is $96) and limiting their number of performances to just seven, they're able to amortize what must be some substantial production costs over a large number of paying customers per performance. The downside of this approach is that they don't have a preview period to let cast and orchestra fully settle in and, as a result, their opening night performances often feel a little rough. On this opening night, the orchestra struggled a little with the demanding licks of the iconic overture and there were moments when the overall precision of the production – timing of transitions and the like – seemed off. I suspect this all will settle down later in the run.
I've found some of Light Opera/Music Theater Works' previous productions to be too-slavishly reverential of the original production – respectful and loving, to be sure, but offering few surprises. Hogenmiller and Cross's Gypsy, though, while certainly not a conceptual production or re-interpretation, is a vibrant take on what many people – rightly, I'd say – consider to be one of the very finest musicals ever written. Arthur Laurents' book and Sondheim's lyrics offer so much – an affectionate recreation of the vaudeville and burlesque worlds, an examination of ambition, parenting, and issues of self-esteem – that it's an unusually rich and dramatic piece. Its honesty about those issues has kept it fresh and unsentimental for nearly 60 years. The fierce performances of this cast deliver all the goods inherent in the writing.
~ ~ ~ ~ ~ ~ ~ ~ ~ ~ ~ ~ ~ ~ ~ ~ ~ ~ ~ ~ ~ ~ 
Around the Town Chicago
August 22, 2017
By Jacob Davis
4 stars
Lovers of musicals are undoubtedly delighted to see Music Theater Works mounting Gypsy with their full orchestra, and with Roger L. Bingaman conducting, the show does not disappoint. Jule Styne's compositions have long made it one of the most cherished pieces of music on the American stage, and nearly sixty years later, it is still vibrant from the beginning of the overture to the end of its nearly three-hour running time. But what of the story the music is meant to service? Director Rudy Hogenmiller has assembled a fine cast, including the outstanding Mary Robin Roth and Lexis Danca in the iconic roles of Mama Rose and Louise who, after some awkward early scenes, plumb Arthur Laurents's script and Stephen Sondheim's lyrics (based on Louise/Gypsy Rose Lee's memoirs) for psychological depth worthy of the score.
We open in the 1920s, with Rose determined to make her young daughters, June (played as a child by Sophie Kaegi) and, to a much lesser extent, Louise (Moira Hughes) into regulars on the vaudeville circuit. She is unaware that she is living at the tail-end of vaudeville; she is downright delusional about the quality of her act. After getting turned down one too many times, Rose takes her daughters and some other kids she assembles on the road, with no funding and no promise of pay, in search of prospects that never really materialize. Now an adult, June (Rosie Jo Neddy) has had it with her mother's ego and empty promises, but Rose is just getting started with Louise, and they continue down a dangerous path to a rather different kind of success than they had envisioned.
For all that people talk about the glitz and magical draw of the stage as depicted in Gypsy, Laurents was brutally frank about how lousy a lot of vaudeville was. His stage directions describe the costumes as "horrible," and the orchestra as "tacky" and "screeching," and he remarks "thank heaven" at the end of June's newsie performance. That Rose's obsession isn't even worth sacrificing for is an uncomfortable truth Hogenmiller's production embraces head-on, much to its credit. What's strange is that the first half of the first act is staged like an actual vaudeville show—the actors look out into the audience and indicate when we're supposed to find something funny and the line deliveries are simultaneously manic and flat. This off-putting style disappears after a few scenes to be replaced by something much more naturalistic, but personally, I found it unnecessary, given how much of the rest of the play is made up of dark humor derived from the awkwardness of the vaudeville and stripping shows-within-the-show. Indeed, as hilariously uncomfortable as the song "You Gotta Get a Gimmick" is as performed by Emily Barnash, Anna Dvorchak, and Alexis Armstrong, "Dainty June and Her Farmboys" matches it cringe for cringe.
To call Roth a powerhouse might be taken to mean her volume is the key to her performance, but her real strength is the range of emotions she imbues Rose with. Her renditions of the unhinged tirades "Everything's Coming Up Roses" and "Rose's Turn" are nothing short of brilliant, but her several minutes of silent acting which precede the end of Act I demonstrate a gift for nuance which is required for the famous numbers to really land. While it's hard to like Rose, exactly, her scenes with her boyfriend, Herbie (Russell Alan Rowe), and the adult Louise do make a convincing case that she has a heart and can inspire them to stay with her for as long as they do. She even has enticing sense of humor. Roth's Rose is tragic, not monstrous, which allows us to form a strong connection with Louise, who might otherwise appear weak.
Danca is a newcomer to Chicago stages, and hopefully, she'll stick around. Her transformation over the course of the show from an unconfident and passive child into an independent adult who lives by her charm and wits is astonishingly convincing. Her duet with June, "If Momma Was Married," is beautiful, as is her scene with choreographer Clayton Cross in the role of Tulsa, and her performance in "Let Me Entertain You" and during her final confrontation with Rose radiates strength and charisma. Hogenmiller's design team (scenic by Joe Klug, costumes by Jeff Hendry, lighting by Andrew Meyers, sound by Aaron Quick) does top-quality work, as well, as is typical of Music Theater Works. There was hardly any question that fans of Gypsy would adore this company's production, but this show is an excellent opportunity for newcomers to be introduced to it, as well. The character-driven drama retains its vitality, as do Sondheim's clever lyrics and Styne's lovingly curated music.
~ ~ ~ ~ ~ ~ ~ ~ ~ ~ ~ ~ ~ ~ ~ ~ ~ ~ ~ ~ ~ ~ 
Picture This Post
August 20, 2017
By Stephanie Dykes
RECOMMENDED
Traditional Musical Delights
Anyone wondering where to find remnants of the golden age of musicals will be thrilled to learn of this production of GYPSY presented by Music Theater Works. The beautiful proscenium theatre in the Cahn Auditorium is a perfect venue for this true-to-form musical. The audience is able to sit back and let the lavishness wash over them from start to finish.
Stage Mother Horror
If you're unfamiliar, the plot is quite simple. Rose has a dream to make her daughters famous on the Vaudeville circuit. She creates acts around her daughter June, which also include her daughter Louise to a far lesser extent. Though the girls' own feelings seem to not even register as a small priority to Rose, she will stop at nothing to achieve this dream. It is quite clear from the start that Rose, in fact, is the epitome of reaching for one's own dreams through their children.
Music Theater Works Emphasizes the Music
The score written by Jule Styne and Stephen Sondheim is brought to full life by an orchestra led by Roger L. Bingaman. The beauty of the overture is like a wave of pleasure that fills the entire room. This is the way to experience the music from one of the most famous examples of classic Broadway. If you're a fan of the score already, the first few bars of "Everything's Coming Up Roses" will give you chills. Frankly, it may do that even if you are new to the show despite not knowing what's to come.
Mary Robin Roth does a fine job with her portrayal of the monstrous yet entertaining Rose. The stage mother persona is exemplified by her brash acting choices and somehow keeps the audience endeared to her. The finales of each act are given a hearty exclamation point by Roth's bold renditions of Rose's signature songs.
The real stand-out in this cast, however, is Lexis Danca as Louise, the supposed "less talented and less appealing" daugher. Her singing voice is tragically underused but is stunning when we get the chance to hear it. Danca embodies the vulnerability of Louise with subtlety and grace. She never loses sight of the strength Louise has needed to survive her childhood.
A scene-stealing performance is given by three wonderfully comedic actresses as sassy burlesque dancers explaining how one "gets ahead" in that business. Alexis Armstrong, Emily Barnash and Anna Dvorchak each give a hilarious performance.
This show is for lovers of traditional musicals. It is performed well and the score is given all the respect it deserves.
Top Pick For: Golden Age of Musicals Lovers
Not recommended for: Musical Haters
~ ~ ~ ~ ~ ~ ~ ~ ~ ~ ~ ~ ~ ~ ~ ~ ~ ~ ~ ~ ~ ~
Chicago Critic
August 20, 2017
By Tom WIlliams
HIGHLY RECOMMENDED
Mary Robin Roth ignites the backstage classic Broadway musical – GYPSY
Gypsy is my # 4 All-Time favorite musical and I have seen many terrific productions of this backstage classic. Music Theater Works' standard production is worthy that does justice to the musical. The score by Jule Stein and the lyrics by Stephen Sondheim together with Arthur Laurents' book blend together to entertain us. The score, featuring one of the best, brassy overtures, is in terrific hands with conductor Roger Bingaman's full orchestra utilizing the original orchestrations.
Lexis Dance as Lousie, makes the transition from a 'no-talent' vaudevillian to the slick stripper Gypsy Rose Lee marvelously. Rosie Jo Neddy as Dainty June was excellent. Both her and Lexis Dance danced and sang their duet, "If Momma Was Married" in fine harmony. Russell Alan Rowe's Herbie was a serviceable complement to the charismatic Mama Rose. The show stopper, "You Gotta Get A Gimmick" was a hoot with sexy Emily Barnash as Mazeppa (with horn), Alexis Armstrong's Tessie (with finesse) and the hilariously underplayed Electra (with lighting) from Anna Dvorchak each showing their stripping skills.
Featuring a brassy toe-tapping vaudevillian score from Jule Styne and clever lyrics from a young Stephen Sondheim, Gypsy is the quintessential backstage Broadway musical that audiences adore.
The ambitious, driven ultimate stage mother, Mama Rose is one of the great characters in all of American Broadway musicals. Any production of Gypsy depends on who plays Mama Rose. Mary Robin Roth's booming voice channeled Ethel Merman takes over as the determined stage mother. Her voice grated on me after a time but Roth's best moments were when she sang. She commands her scenes especially when she blurts out "Sing Out, Louise" as storms onto the stage. We know instantly that Rose is in charge here. Mama Rose has that blend of toughness without being nasty; that staunch determination to make her daughter a star. Mary Robin Roth has fine comedic timing that, together with her body language and vocal tones, gives Mama Rose substance as she earns our empathy.
Roth's strong voice allowed her to land "Some People" with fanatical determination; smoothly charms Herbie in "Small World," and motivates Louise in the stirring anthem "Everything's Coming Up Roses." Her rendition of the fantastic "Rose's Turn," where Rose lets loose all the emotions from a lifetime of dreams, was effectively performed.
Gypsy is a classic back stage story of vaudeville and of a mother's living her life through her children. It is also about the rise of Gypsy Rose Lee, the famed stripper. The lush sound from the full orchestra and the smart lyrics upon the vivid score each contribute to a wonderful production. Mary Robin Roth makes Gypsy a must-see event.
~ ~ ~ ~ ~ ~ ~ ~ ~ ~ ~ ~ ~ ~ ~ ~ ~ ~ ~ ~ ~ ~
Post Tribune
August 22, 2017
By Philip Potempa
'Gypsy' a stage musical that strips away layers of mothers

Reader Evelyn LaHaie, of Hobart, wrote to me recently about her familiarity with "stage mothers."
For decades, she ran her Evelyn School of Charm and Modeling at the Hotel Gary in Gary and helped give many young talents their start in the spotlight. She also has served on the board of directors of the Modeling Association of America.
When I called LaHaie recently, I mentioned I was seeing a new run of the musical "Gypsy" this month and explained the character Mama Rose, mother to the famed stripper Gypsy Rose Lee, still embodies all of the characteristics we associate with anyone who is defined as a stage mother. LaHaie invited me to stop by her house to see some framed personal letters she has from the late Gypsy Rose Lee, who died at age 59 in 1970. LaHaie said she has the letters displayed in her living room with other career mementos and correspondence.
Music Theater Works, formerly Light Opera Works, is producing this new run of "Gypsy" at Cahn Auditorium, 600 Emerson St. in Evanston, with the final performances Wednesday, through Sunday. With book by Arthur Laurents, music by Jule Styne and lyrics by Stephen Sondheim, the work is "suggested by the memoirs of Gypsy Rose Lee." Clocking in at just about three hours, including the intermission, this new run is a fun and fresh romp, relevant as ever, is perfectly directed by Rudy Hogenmiller, choreographed by Clayton Cross and backed by a 25-piece orchestra conducted by Roger L. Bingaman.
The original 1959 Broadway show starred Ethel Merman, and has been revived many times, with everyone from Patti LuPone to Bernadette Peters filling the shoes of Mama Rose. The 1962 movie starred Rosalind Russell, with Natalie Wood as Louise (Gypsy), and Morgan Brittany and Ann Jillian playing younger sister June (at various ages). June is pushed into vaudeville stardom at age 6 by her mother, while Louise struggles to compete.
June later enjoyed a successful acting career with her stage name June Havoc, but always said she detested both the film and stage musical "Gypsy," right up to her death at age 97 in 2010.
"It meant so much to (Louise/Gypsy), her precious illusion; it made her into an ingenue at last," Havoc remarked bitterly in 1998 in an Associated Press interview.
"And I loved my sister, but I loathed her life. Mother was very prim, and she was tiny and lovely with big blue eyes. She was endearing and alluring beyond belief. If she had drive and ambition, what's wrong with that?"
With hit songs like "Everything's Coming Up Roses," "Together Wherever We Go," "Let Me Entertain You" and "Some People," it's hard to imagine anyone not being fond of what many in theater circles consider to be one of the best musicals ever written.
Music Theater Works has a stellar cast of talent led by Mary Robin Roth as Mama Rose. She not only belts out every song and hits a home run, she brings depth to the role of this mother eager to achieve her own untapped ambitions by way of the youth and promise of her daughters. Russell Alan Rowe plays Herbie, Rose's devoted showbiz in-the-know suitor, and Lexis Danca as Louise and Rosie Jo Neddy as June shine as the famed sisters.
Some other favorite moments come from the scenes of the young men who tour with Mama Rose's troupe, notably Clayton Cross as Tulsa, Matthew Huston as Angie, Ryan J. Duncan as Yonkers and Raymond Goodall as Kansas. Jeff Hendry's costume designs are highlighted throughout, but especially in "You Gotta Get a Gimmick," the strippers''number entertainingly executed by Alexis Armstrong as Tessie Tura, Emily Barnash as Mazeppa and Anna Dvorchak as Electra. The design/production also includes Joe C. Klug's scenic design, Andrew H. Meyers' lighting and Aaron Quick's sound design.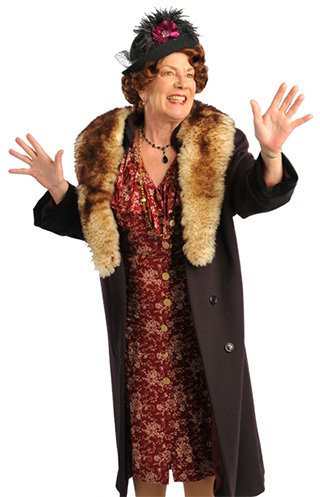 Mary Robin Roth (Vera in Mame and Dolly in Hello, Dolly!) stars as Rose, the mother of all stage mothers, in this classic musical from Broadway's Golden Age.