August 19-27, 2017

"Let me entertain you"
The ultimate tale of an ambitious stage mother fighting for her daughters' success…while secretly yearning for her own. Set all across America in the 1920s, when vaudeville was dying and burlesque was born, the brassy score by Jule Styne and Stephen Sondheim is packed with hits, including Everything's Coming Up Roses, Let Me Entertain You, You Gotta Get a Gimmick and Some People.
Ages 12 and older
With 25-piece orchestra
Gypsy
A Musical Fable
Book by Arthur Laurents
Music by Jule Styne
Lyrics by Stephen Sondheim
Suggested by memoirs of Gypsy Rose Lee
Original production by David Merrick & Leland Hayward
Entire production originally directed and choreographed by Jerome Robbins
Saturday, August 19, 2017 at 8 pm
Sunday, August 20 at 2 pm
Wednesday, August 23 at 2 pm
Thursday, August 24 at 2 pm
Friday, August 25 at 8 pm
Saturday, August 26 at 8 pm
Sunday, August 27 at 2 pm
Tickets start at $34
Age 25 and younger 1/2 price (suitable for 12 and older)
Running time: 2 hours and 50 minutes, including one intermission
MORE ABOUT THE SHOW
Here she is, boys…
By Michael Kotze
Earlier this summer, the author sat down with Gypsy star Mary Robin Roth before rehearsals began. Here are highlights of their discussion…
It's the middle of June, and Mary Robin Roth cannot wait for Gypsy rehearsals to start. "Let's go!" she says, in a voice that means business. "I'm counting the days!"
Staged by her long-time collaborator, MUSIC THEATER WORKS artistic director Rudy Hogenmiller, the 1959 Broadway smash was created by the formidable team of Arthur Laurents (book), Jule Styne (music) and Stephen Sondheim (lyrics). It tells the real-life show business coming-of-age story of two sisters and their indomitable stage mother.
Both sisters became famous; the younger in Hollywood, the elder as a burlesque artist and author. The names June Havoc and Gypsy Rose Lee are still remembered today, at least among flame-keepers of show-biz lore, but their mother Rose died in obscurity.
The greatest role in the greatest musical
Of the three, surely it is Rose who is immortal, thanks to the show many call the greatest Broadway musical of them all. In Gypsy, Laurents, Styne and Sondheim created the Mount Everest of musical theater roles: Rose, the stage mother to end all stage mothers. Broadway legend Ethel Merman created the part, and since then a long line of stars, including Angela Lansbury, Bernadette Peters and Patti LuPone, have made their mark in the role.
So, Mary Robin Roth is eager for her turn. Familiar to MUSIC THEATER WORKS audiences as Vera in Mame, Dolly in Hello, Dolly! and her show-stopping performances in three Nichols Concert Hall Greatest Hits presentations (Cole Porter, Hollywood and Jule Styne), Roth first played Rose more than a decade ago, and is eager to revisit it.
"There's such a fine line between making Rose a caricature or a real person." That line clearly fascinates her. "Is she a martyr or a monster? There are so many contradictions in Rose, and that's what makes her so interesting, and gives you so much to play."
Rose's efforts to forge careers for her daughters ultimately pushes them away, and makes Rose question her motives. "'What did I do it for?' she asks herself. 'Was it for me, or for my kids?' That's what Rudy and I will spend a lot of time talking about—there is just so much to dig into."
She's still here
Has her own career given Roth insight into Rose's struggle? "I relate! Being in this business, you have to be tough, you have to refuse to be discouraged. You're either a survivor or you're not. Rose is a survivor."
But this is more than just a show-biz story. Roth relates Gypsy to her own Minnesota childhood, far from the bright lights of the theater. "I was the only girl with four brothers," she recalls. "Finally the girl came along, and my mom was determined to give me everything she didn't have—whether I wanted it or not!"
"Every mother and daughter have a kind of love-hate relationship. I loved my mother, but you put two women—two strong women—together, and there will be conflict! It's all there in Gypsy. You have to live your own life—Rose can't live her daughter's life for her."
Asked about the challenges of playing such a role, Roth recalls the advice she received from her music director on a production of Stephen Sondheim's Follies. "I was singing 'I'm Still Here,' a BIG song, and my first instinct was to…" She sings the first lines in a belt that would peel paint, and then laughs. "But he said, no—don't start big. You're going to get there eventually."
From opening rehearsal to closing performance
Which is why Roth was so impatient for the Gypsy rehearsals to commence. She was eager to begin the voyage of discovery that starts with the first read-through and doesn't end until the curtain comes down on the final performance. Taking on Rose is quite a journey, one that leads to places both dark and exhilarating; it is the kind of work actors relish most.
Now that opening night draws near, Roth is climbing to the top of this mountain of a role. The opportunity to work on a show as great as Gypsy comes along all too rarely and, with a gleam in her eye, Mary Robin Roth promises, "We're going to find the heart and soul of it!"

Gypsy's original Rose in 1959—Broadway legend Ethel Merman.
Gypsy through the years
Gypsy opened on Broadway on May 21, 1959, and ran for 702 performances, starring Ethel Merman as Rose. The first New York revival in 1974 starred Angela Lansbury. Subsequent revivals were in 1989 (Tyne Daly, followed by Linda Lavin), 2003 (Bernadette Peters) and 2008 (Patti LuPone). A television production in 1993 starred Bette Midler. The 1962 movie version starred Rosalind Russell.
FREE DISCUSSION
Balcony Talk
For 10 years, audience members have enhanced their appreciation of MUSIC THEATER WORKS productions with business manager Mike Kotze's lively behind-the-scenes look at the show they're about to see. He's our resident expert on all things music and theater!
Join Mike for fun facts about Gypsy on any of these dates:
Sunday, August 20 • 12:45 pm
(doors open 12:30)
Saturday, August 26 • 6:45 pm
(doors open 6:30)
Sunday, August 27 • 12:45 pm
(doors open 12:30)
No need to RSVP—just attend (even if you have tickets for a different performance).
PHOTOS
Click either photo to view and download a larger image.
Gypsy at Music Theater Works (formerly Light Opera Works),
August 19-27, 2017, at Cahn Auditorium, Evanston, IL.
Photo credit: Rich Foreman
Mary Robin Roth stars as stage mother Rose in Gypsy at Music Theater Works, August 19-27, 2017.
Photo credit: Rich Foreman
PRESS RELEASE
Contact: Christopher Riley
Director of Audience and Press Services
(847) 920-5354 ext. 10 (press only)
criley@musictheaterworks.org
MUSIC THEATER WORKS presents GYPSY August 19-27, 2017
Who
Music Theater Works
(formerly Light Opera Works)
What
GYPSY
Book by Arthur Laurents
Music by Jule Styne
Lyrics by Stephen Sondheim
Suggested by memoirs of Gypsy Rose Lee
Original Production by David Merrick & Leland Hayward
Entire production originally directed and choreographed by Jerome Robbins
Directed by Rudy Hogenmiller
Choreographed by Clayton Cross
Conducted by Roger L. Bingaman
When
Press Opening – Saturday, August 19, 2017, at 8 pm
Sunday, August 20, at 2 pm
Wednesday, August 23, at 2 pm
Thursday, August 24, at 2 pm
Friday, August 25, at 8 pm
Saturday, August 26, at 8 pm
Sunday, August 27, at 2 pm
Where
Cahn Auditorium
600 Emerson Street, Evanston, IL
Tickets
Tickets start at $34. Ages 25 and younger half-price.
(847) 920-5360 • www.MusicTheaterWorks.com
Evanston, IL: Music Theater Works (formerly Light Opera Works) presents GYPSY, the tale of an ambitious stage mother fighting for her daughters' success, at Cahn Auditorium in Evanston, August 19 through 27. A 25-piece orchestra accompanies such well-known songs as "Everything's Coming Up Roses," "Let Me Entertain You" and "Some People."
GYPSY is directed by Music Theater Works artistic director Rudy Hogenmiller, conducted by music director Roger L. Bingaman and choreographed by Clayton Cross.
The cast includes Mary Robin Roth (Rose), Russell Alan Rowe (Herbie), Lexis Danca (Louise), Rosie Jo Neddy (June), and Clayton Cross (Tulsa).
The design/production team is Joe C. Klug (scenic), Jeff Hendry (costumes), Andrew H. Meyers (lighting), Aaron Quick (sound), Shannon Rourke (stage manager) and Katie Beeks (production manager).
The opening night reception for GYPSY is sponsored by The Stained Glass in Evanston.
GYPSY is Music Theater Works' second production of 2017. The season will continue with the concert performance DUKE ELLINGTON'S GREATEST HITS (October 6-15) and PETER PAN (December 23-January 1, 2018).
Discounted season ticket packages are still available.
Tickets for GYPSY begin at $34. Ages 25 and younger are half price. To order tickets, or for more information, call the Music Theater Works box office at (847) 920-5360 or order online 24 hours a day at www.MusicTheaterWorks.com
Director/Music Director/Choreographer Biographies
RUDY HOGENMILLER (Director), artistic director of Music Theater Works, has directed and choreographed many productions for the company including CANDIDE, DIE FLEDERMAUS, LET ME ENTERTAIN YOU: JULE STYNE'S GREATEST HITS, MAME, MY FAIR LADY, GUYS AND DOLLS, SOUTH PACIFIC, THE FANTASTICKS, THE MERRY WIDOW, COLE PORTER'S GREATEST HITS, FIDDLER ON THE ROOF, ANNIE GET YOUR GUN, H.M.S. PINAFORE, OLIVER!, MAN OF LA MANCHA, CAMELOT, BRIGADOON, HELLO, DOLLY!, THE YEOMEN OF THE GUARD, A LITTLE NIGHT MUSIC, THE PIRATES OF PENZANCE, KISS ME, KATE, SOUTH PACIFIC, THE MIKADO and THE SOUND OF MUSIC. Hogenmiller was seen on stage in 2014 as Mr. Applegate in DAMN YANKEES, and as the Emcee in CABARET in 2013. He has been recognized with six Joseph Jefferson Awards and 17 nominations for best direction and choreography in Chicago, and has been a member of the Society of Stage Directors and Choreographers for more than 35 years.
ROGER L. BINGAMAN (Music Director and Conductor) conducts the 25-piece orchestra. Bingaman made his first appearance on the Music Theater Works podium in 1997, conducting THE MERRY WIDOW. Since then he has conducted many productions, including CANDIDE, DIE FLEDERMAUS, MAME, MY FAIR LADY, SOUTH PACIFIC, THE FANTASTICKS, CABARET, FIDDLER ON THE ROOF, ANNIE GET YOUR GUN, H.M.S. PINAFORE, OLIVER!, CAMELOT, THE STUDENT PRINCE, BRIGADOON, HELLO, DOLLY! CAROUSEL, and THE YEOMEN OF THE GUARD, as well as THE PIRATES OF PENZANCE, A LITTLE NIGHT MUSIC, THE MUSIC MAN, IOLANTHE, GIGI, OKLAHOMA!, BITTER SWEET, KISS ME, KATE, 110 IN THE SHADE, NO WAY TO TREAT A LADY and BEAUTIFUL HELEN OF TROY. Bingaman has been director of the apprentice program and chorus master for the Sarasota Opera since 1998.
CLAYTON CROSS (Choreographer and Tulsa) choreographed CANDIDE, MAME, MY FAIR LADY and GUYS AND DOLLS at Music Theater Works, where also played the Mute in THE FANTASTICKS and was a featured dancer in DAMN YANKEES. Cross served for five years as artistic advisor, board member and choreographer for Renegade Dance Architects, and continues to consult and contribute choreography to the Capitol One Bowl's ALL AMERICAN HALFTIME SHOW. He is a master teacher for M.A. Dance, a Texas-based traveling convention circuit, where he has worked and judged for the past 17 years. Throughout his 20-year career as a dancer, Cross has worked with Robert Battle, Fernando Bujones, Frank Chaves, Paul Taylor, and Ann Reinking. He was featured in EVERY DANCER HAS A STORY, a PBS special about the River North Chicago Dance Company, where he was a company member for nine seasons and toured nationally and internationally. Originally from Midland, Texas, Cross received his early training from La Petite Dance Company, Coleman Academy, and the Midland Community Theatre. He holds a BFA in ballet and modern dance from Texas Christian University.
Cast Biographies
MARY ROBIN ROTH (Rose) was seen last season at Music Theater Works as Vera Charles in MAME, and in LET ME ENTERTAIN YOU: JULE STYNE'S GREATEST HITS. Other productions with the company include concert productions of HOLLYWOOD'S GREATEST SONG HITS and COLE PORTER'S GREATEST HITS, Dolly Levi in HELLO, DOLLY! and five different characters in NO WAY TO TREAT A LADY. She was seen at Lyric Opera of Chicago as the Nurse in A STREETCAR NAMED DESIRE starring Renee Fleming. Mary Robin's credits include Sister Lazarus in SISTER ACT (Marriott Theatre), Fraulein Schneider in CABARET, Jeanette in THE FULL MONTY, Helga in DEATHTRAP and Mama Morton in CHICAGO (Mason Street Warehouse; Saugatuck, Michigan), Miss Hannigan in ANNIE (Arkansas Repertory Theatre), and Fanny Brice in FUNNY GIRL (Beef & Boards Dinner Theatre of Indianapolis). Other favorite Chicago roles include Mame in MAME, and Carlotta in FOLLIES (for which she was honored with a Jeff Award and an After Dark Award) and SHEAR MADNESS (also San Francisco and the Kennedy Center). Broadway credits include THE MYSTERY OF EDWIN DROOD and SENATOR JOE. Her touring credits include the national and international companies of EVITA and the Toronto company of SUNSET BOULEVARD (understudy Norma Desmond).
RUSSELL ALAN ROWE (Herbie) returns to Music Theater Works where he appeared in CANDIDE as Martin. Other productions with the company include MAME (M. Lindsay Woolsey), MY FAIR LADY (George, Lord Boxington), SOUTH PACIFIC (Cmdr. Harbison), THE MERRY WIDOW (Kromov), FIDDLER ON THE ROOF (Constable) and ANNIE GET YOUR GUN (Mac/Buffalo Bill understudy.). Favorite Chicago roles include Robert Danvers in THERE'S A GIRL IN MY SOUP at the Metropolis Performing Arts Centre and the Man in Christopher Durang's LAUGHING WILD with Bailiwick Chicago. Other Chicago credits include PARADE (Governor Slaton/Luther Rosser), AMADEUS (Strack), FLOYD COLLINS (Lee Collins) and THE RAINMAKER (Sheriff Thomas), all with Bohemian Theatre Ensemble. Russell was seen in Porchlight Music Theatre's ANYONE CAN WHISTLE in concert, and StageLeft's BLUE/WHITNEY. Russell also works frequently as a professional pianist with The Russell Alan Rowe Trio, and can be seen featured in several local and regional television commercials.
LEXIS DANCA (Louise/Gypsy Rose Lee), making her Music Theater Works, is a recent graduate of Millikin University with a BFA in musical theater and dance minor. She was most recently seen at Music Theatre Wichita in MAMMA MIA!, BEAUTY AND THE BEAST, OKLAHOMA!, NICE WORK IF YOU CAN GET IT, JESUS CHRIST SUPERSTAR, AIDA, DISNEY'S MY SON PINOCCHIO, BIG FISH, BILLY ELLIOT THE MUSICAL, and HELLO, DOLLY! Performances at Millikin include BLOOD WEDDING, THE ADDAMS FAMILY, AND THE WORLD GOES ROUND, PETER PAN, LEGALLY BLONDE, CINDERELLA, MACHINAL, the collegiate premiere of the new Gwon and Hammond musical STRING, and the workshop of Salzman and Cunningham's, THE LEGEND OF NEW YORK. Other credits include AN EVENING WITH ANDREW LIPPA, THE NUTCRACKER BALLET, THODOS DANCE RESIDENCY, and the 84th Annual Macy's Thanksgiving Day Parade (featured float singer/dancer). lexisdanca.com
ROSIE JO NEDDY (June) joins Music Theater Works for the first time, after graduating from Northwestern University in June, where she majored in theatre and minored in creative writing. Northwestern performances include INTO THE WOODS, CABARET, JAMES AND THE GIANT PEACH, SWEET CHARITY, THE MIRACULOUS JOURNEY OF EDWARD TULANE, and the Waa-Mu Show. She also appeared in Lyric Opera of Chicago's CAROUSEL, as Baby Snow and in the ensemble.
# # #
Music Theater Works (formerly Light Opera Works) is a resident professional not-for-profit theater in Evanston, founded in 1980. The company's mission is to produce and present musical theater from a variety of world traditions. All productions are presented in English, with foreign works done in carefully edited modern translations. Maximum scholarship is employed to preserve the original vocal and orchestral material as well as the spirit of the original text whenever possible. Audiences know that at Music Theater Works they will experience repertoire often unavailable on the stages of commercial theaters and opera houses, in modern productions with professional artists and full orchestra.
# # #
Music Theater Works' mission is to produce and present musical theater from a variety of world traditions, to engage the community through educational and outreach programs, and to train artists in musical theater.
# # #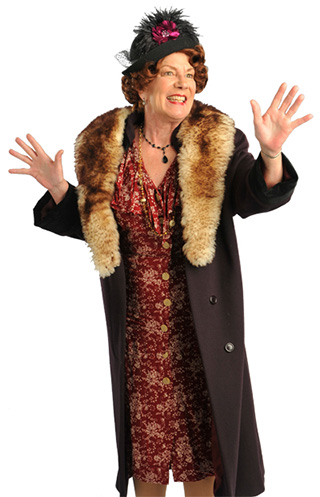 Mary Robin Roth (Vera in Mame and Dolly in Hello, Dolly!) stars as Rose, the mother of all stage mothers, in this classic musical from Broadway's Golden Age.
CONSTRUCTION ALERT!
There is major road construction on Sheridan Road and Emerson Street in Evanston.
All Northwestern University parking lots ARE open, but we strongly advise you to allow extra time to find your parking and walk to Cahn Auditorium.
If you normally drop off people at the theater before you park, please call us for special instructions: (847) 920-5360.