Teens 13 to 18 perform like pros

Cole Porter's Anything Goes
Youth Production
June 11–29, 2018
Free pubic performance Friday, June 29 • 7:30 pm
Overview
An audition-only program in which teens age 13 to 18 rehearse the Cole Porter classic Anything Goes, and present a final public performance with costumes, sound and lights. The program runs two and a half weeks and requires an audition, which will be scheduled after you register. Each role is individually cast based on auditions.
(Click HERE for age 8 to 13 Workshops)
Who can attend
Serious teens age 13 to 18, who want to work like the professionals. Students learn with director/choreographer Caryn Ott Hillman, music director Christopher Richard and program manager Anya Plotkin…plus special guest directors, musicians and actors…to gain insight into the theatrical process.
About Anything Goes
It's delightful, it's delicious, it's de-lovely! This wacky shipboard farce features romance, intrigue, colorful characters from the 1930's, and a glorious score by Cole Porter. Winner of the 2011 Tony Award for Best Musical Revival. Join a gangster, a wealthy debutante, a nightclub singer, a lovesick stowaway and the crew for spectacular dances and madcap fun aboard the S.S. American. It's a show that exists to entertain!
Schedule
Rehearsals
June 11-26
Monday through Friday • 10 am to 4 pm
Saturdays • 12 to 4 pm
Technical/dress rehearsals/performance
June 27 and 28 • 10 am to 4 pm
June 29 • 5:30 pm call, 7:30 pm free public performance
Location
Rehearsals are at the air-conditioned Music Theater Works (formerly Light Opera Works) rehearsal center at 516 4th Street in Wilmette. The free public performance on June 29 is at Cahn Auditorium in Evanston.
Cost
Fee is $1275 per student, with a $50 audition fee due with registration. If student is cast, the audition fee will be applied to the cost, making the balance $1225, due by May 1, 2018. If student is not cast, the $50 will be refunded. If student is cast and does not accept the role, the audition fee will not be refunded.
Limited needs-based scholarships available—call (847) 920-5360.
Pre-care/after-care options
In order to accommodate parents' work schedules, early drop-off and late pick-up times are available at an additional charge. Counselor will be on hand.
Pre-care:
$75 per teen for the week Drop off as early as 8:30 am (regular drop-off is after 9:30; rehearsal starts at 10 am).
After-care:
$100 per teen for the week Pick up as late as 6:00 pm (regular pick-up is by 4:15; rehearsal ends at 4 pm) Care is also available at a daily rate of $15 (pre-care) and $20 (after-care) per teen per day.
Order daily care by phone: (847) 920-5360.




Candide youth production • 2017
My Fair Lady youth production • 2016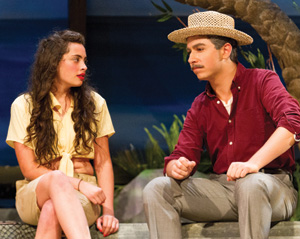 South Pacific youth production • 2015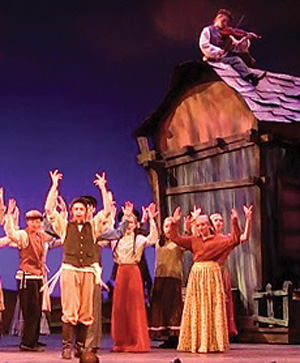 Fiddler on the Roof youth production • 2014