A summer they'll never forget!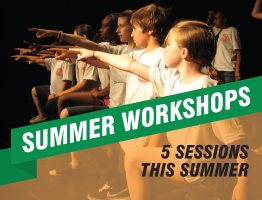 Summer Workshops

Kids 8 to 13 develop confidence in a nurturing and fun atmosphere. No auditions or experience required and every child is guaranteed a part in the show. LEARN MORE
The Music Theater Works Summer Workshop offers kids age 8 to 13 a chance to shine onstage. Classes in Wilmette teach young people acting, singing and dancing as they prepare a mini-musical for family and friends.
And for teens 13 to 18, this year's youth production of Cole Porter's Anything Goes is an opportunity to learn musical theater from professionals, culminating in a fully-staged production.