600 Emerson Street (at Sheridan Road), Evanston, Illinois
Park free in Northwestern University lots on evenings and weekends.
We strongly recommend the NU Visitors Center Garage off Sheridan Road, two blocks east of Cahn Auditorium (see map). Free after 4 pm on weekdays, and all day weekends and holidays. (For weekday matinees the cost is $8 between 8 am and 4 pm—credit cards only.)
Do not park in other Northwestern University lots on weekdays – you may be ticketed. (But after 4 pm on weekdays is fine.)
Paid parking is available in these City of Evanston garages:
Two blocks south of Cahn Auditorium at Clark and Chicago
Four blocks west and three blocks south of Cahn Auditorium at Clark and Maple
Two blocks west and four blocks south of Cahn Auditorium at Sherman and Davis
We do not recommend street parking for weekday matinees, as there are two-hour limits all around the theater Note restrictions on posted signs.
CTA:
Take El to Foster Street, Evanston. Walk two blocks east and one block south to Cahn Auditorium.
Click map to view larger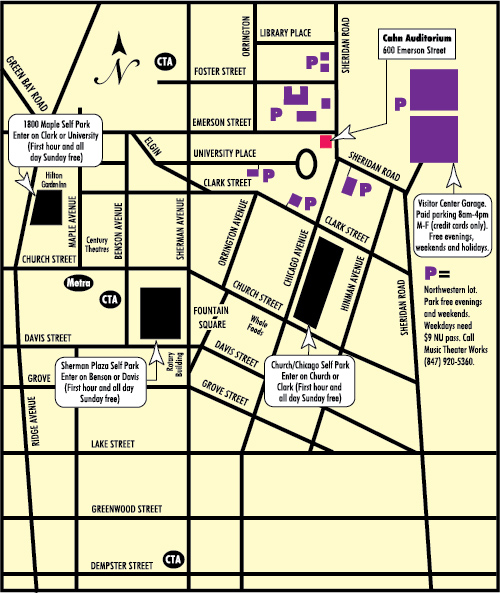 1490 Chicago Avenue (at Grove Street), Evanston, Illinois
Handicapped entrance (no stairs) is on north side of building on Grove Street. Main entrance is on Chicago Avenue.
Best Parking Availability:
Sherman Plaza Self Park (enter on Benson or Davis). Free on Sunday.
Limited Parking Availability:
After 5 pm and all day Sunday: Best Western Hotel lower level only (climb six stairs to exit). Use pay box in northwest corner of garage (cash or credit card — free on Sunday). No need to place receipt on your car. This lot fills up quickly.
Street Parking:
Street parking is available near Nichols Concert Hall. Check signs for rates and restrictions.
Other Garages:
See map below.
CTA: 
Take El to Dempster Street, Evanston. Walk one block east and two blocks north to Nichols Concert Hall.
Click map to view larger